The economic value of peace
During the last twenty years, humanity has entered into a new epoch in its history. This has been brought about by a convergence of many factors. Finite environmental barriers are now being reached, and on multiple fronts. World population is expected to reach seven billion within a couple of years, and in many places in the world it is already at straining capacity. Technology is fuelling change at an ever-increasing pace, which in many ways underpins the growth of globalization. The world is connected in ways that were unimaginable even fifty years ago. Wars are no longer economically viable. Change is occurring so fast that nations are struggling to keep up with both the legal and social ramifications. Even our language is changing, daily incorporating new words to describe our changing reality. Our notions and concepts of peace are changing with it.
Global challenges call for global solutions, and these solutions require cooperation on a scale unprecedented in human history. Peace is an essential prerequisite because without peace we will be unable to achieve the levels of cooperation, inclusiveness and social equity necessary to solve these challenges, let alone empower the international institutions necessary to address them. Peace lies at the centre of being able to manage these many and varied challenges, simply because peace creates the optimum environment in which the other activities that contribute to human growth can take place. In this sense, peace is a facilitator, making it easier for workers to produce, businesses to sell, entrepreneurs and scientists to innovate and governments to regulate.
SCCN is profoundly grateful for all who serve the cause of peace, and for all who have given their lives in its defence. The yearly Dutch Veterans Day is an important moment to recognize and reflect on the service and sacrifice of all military veterans, past and present.
The story of private Johan Frans Ketting Olivier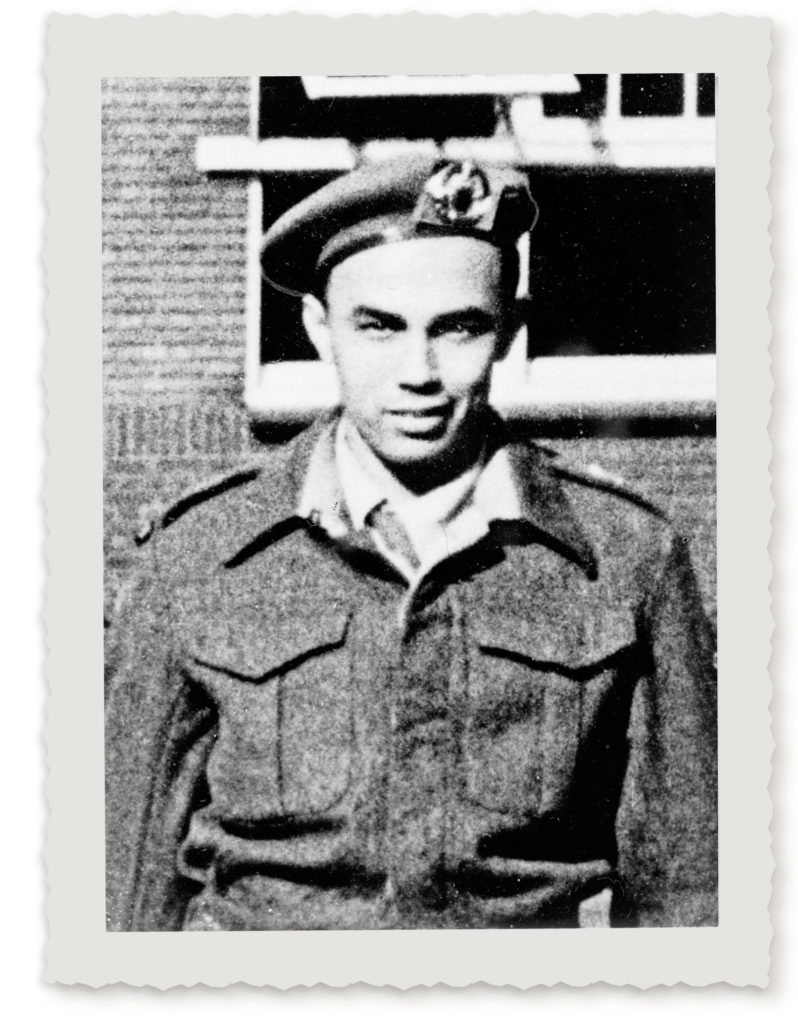 The Netherlands has 50 active barracks. There used to be many more. Behind every barrack's name is a story. From special architecture, a historical event to a heroic soldier. In this new section 'behind the guard', the Defence newspaper goes in search of those stories. We kick off with the Ketting Olivier barracks in Soesterberg. Named after Private Johan Frans Ketting Olivier.
Hoengsong, Wonju, Hill 325; not names familiar to the public. But to the Korean veteran, a shiver will run down the spine. Because of the memory of slogging through blizzards in sometimes as low as -20 degrees Celsius, the preponderance of Chinese and North Koreans they fought against and the large number of Dutch casualties that occurred.
At the time, the Dutch were serving in the Dutch Detachment United Nations (NDVN), assigned to the US 2nd Infantry Division 'Indian Head'. Men who voluntarily signed up to fight the red menace. Many of them fought in the Dutch East Indies in the years before.
Private Johan Frans Ketting Olivier is one such volunteer.: a soldier in the KNIL's Army Technical Service. In late October 1950, he leaves for Korea, where soon afterwards he finds himself caught up in the great Chinese winter offensive. Together with other allied troops, the Dutch manage to narrowly halt the advance from the north.
Battle for Hill 325
And then it is 14 February 1951. A few kilometres west of Wonju. At less than 30 metres, 1,000 Chinese storm up Hill 325 out of the heavy morning mist. Dutch overtired defenders, malnourished and in shock from earlier fighting retreat headlong. They get the flammable substance napalm on their roof, from friendly planes.
"Own troops bare-chested in cross formation," reports the day's combat report. This is how they manage to warn the airmen in the sky and stop the firing. The hill they have to give up. The following night, several platoons attempt to take the hill.
Man to man
With artillery support and a group of volunteers, they manage to reach the top after 3 times. Orderly. Ketting OIivier is among the first 8 men to penetrate the enemy positions with bayonet on rifle. In doing so, he provides cover for his lieutenant Johannes Anemaet. It earns him the Militaire Willems-Orde. Posthumously; Ketting OIivier does not survive the action. The Private Second Class finds his final resting place at the UN cemetery in Busan. Back home in the Netherlands, his sister accepts the award. At the Palace on Dam Square, from the hands of Queen Juliana.

Remembrance of a knight
It takes 40 years for Ketting Olivier's name to resurface. His name is associated with the Zeisterspoor barracks complex in Soesterberg, home of the then 135 Recovery Company, in June 1992. It is the first time a barracks is named after a soldier. Ketting Olivier's sister is present again and unveils the wall bearing her brother's name. This is how the Regiment Technical Troops honours its fallen knight.
Family
Johan Frans Ketting Olivier was born on 21 October 1926 in Batavia. He died on 15 February 1951 in Manyong, Korea, at the age of 24. Ketting Olivier is buried in UN Memorial Cemetery, Busan. He was a child of Frans Hendrik Theodoor Ketting Olivier and Alice Olijve. He is a great-uncle of our ambassador Ruby Ketting Oliver.
Sources
translation of Achter de Wacht (Defensiekrant 21, vrijdag 19 oktober 2018) by ritmeester Arthur van Beveren